Shopping Cart
Your Cart is Empty
Thank you for your business!
You should be receiving an order confirmation from Paypal shortly.
Exit Shopping Cart
Custom Building & Restoration
Whether restoring your antique boat to original condition or redesigning it to fit your needs, we can handle your entire project from start to finish.
We will make any repairs that wood boats require from cosmetic damage or dents, to major rot repair. But our claim to fame are our complete rebuilds. We use the best materials available to ensure that you get the most life out of everything we build.
Labor $125 per hr.
Our finishing department offers the finest marine finish available. We have tested all marine finishes and come up with the best system. We've developed our own sealer that penetrates the wood better for increased adhesion. We offer custom blending for a variety of stain options.
Labor $125 per hr.
We can repaint fiberglass and wood boats.
Labor $125 per hr.
We offer traditional, cold molded, 5200 epoxy or our signature 'Lifetime' bottom replacements.
Feel free to stop by for a quote.
Chrome Replating & polishing
The hardware is like the fine jewelry on the boat. We offer complete restoration of your hardware, whether it's replating and polishing all bronze parts or polishing any stainless parts such as rub rails and hinges. All chrome parts are triple plated with copper, nickel and chromium. We can fabricate custom hardware like cut waters, edge waters, trim and fair leads. For hard to find or irreplaceable parts we offer custom casting.
Custom Transom Lettering & Registration No.
We will provide font samples in your chosen name and install vinyl lettering and registration numbers for your boat in traditional scripted immitation gold, 23K Florentine gold or any color of your choosing.
Custom Upholstery & Covers
All our upholstery is hand patterned and custom made to fit your boat perfectly. Covers are custom made to fit your boat with cut outs for cleats and lifting rings as needed.
New custom made trailers available.
Call for quote
Boat and trailer related welding available. (Steel, stainless steel, aluminum and bronze)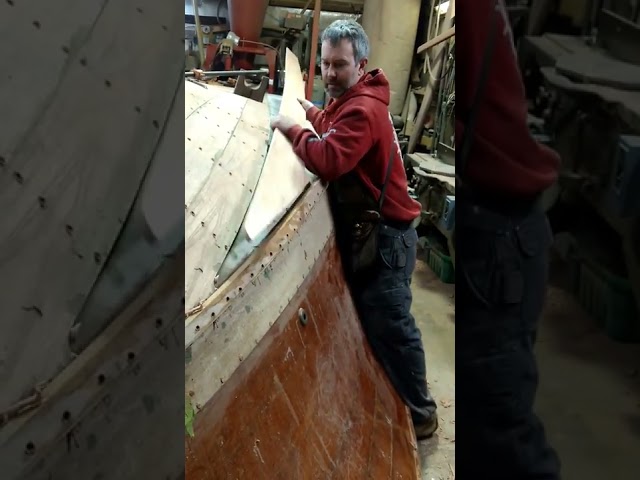 Replacing the bottom on a Chris Craft
This is just one of the MANY steps in putting a new bottom on a boat. Lars is shaping a board into the chine trying to get just the right fit.
Click this text to start editing. This block is great for showcasing a particular feature or aspect of your business. It could be a signature product, an image of your entire staff, an image or your physical location, etc. Double click the image to customize it.
My thanks to everyone at Bergersen Boat for making it possible for me to receive the 'Best Streblow' award at the 2016 Geneva Lake Boat Show!
Lars is top notch. He responds quickly to any request needed for your boat. Nothing about a wooden boat fazes him. His pricing is fair and he and his staff are very knowledgeable, nice and helpful!
It has to be said, Bergersen Boats' craftsmanship is second to none.
We had our Chris Craft restored by Bergersen Boat and she has never looked so good! Thank you for your fine attention to detail and great service!
/